Comments Off

on I'm not sure
It has been a while since I've updated, I guess. Not ages, but a while. We've been plodding onwards with the many jobs big and small which need to be completed. We planed a bunch of trim panels for the board and batten around the outside, cut them to length and Kathryn primed and painted them. Then we cut more we have been working through painting them.
Yesterday we started putting them up and were able to do most of the back with the batch we'd got done (I didn't cut some of the short bits until later – so they haven't been fully painted, and there's a funky bit around the back door which we had a bit of a discussion about how we're going to do it yesterday and I think we've got a plan).
As is often the case with big (and sometimes with small) changes, it's fascinating how much it changes the feel of the house. It feels more cottagey and traditional – and although we were going for a modern take on board and batten siding: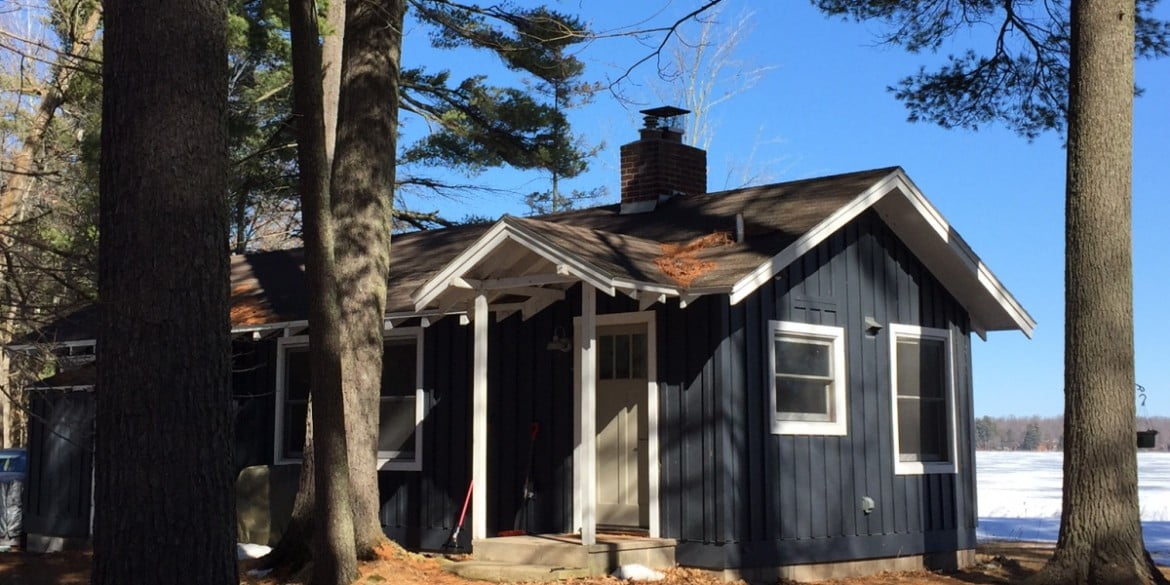 What we actually seem to have created with our somewhat larger spacing is something a bit more like a modern take on mock-tudor. Our neighbours will, no doubt, be surprised by yet another transformation taking place.
We also now have the tiles to cover the main area floor. Having lived with the microcement for a while we've both concluded it just isn't working out. I think if you're a talented, experienced concrete worker you could probably get it better, but for us it's just not smooth enough, and the colour seems to sit in the surface, so polishing it isn't going to work. Which leads to – well, okay, we need to cover it – and that's going to be either carpet, wood or tile. Tile actually improves the effectiveness of the heated floor rather than impeding it, and we like the look of natural tile – so we ordered a ton of slate tile which arrived last week and we lugged it from its pallet to storage.
It's really disappointing to have to redo the floor, but sometimes you just have to suck it up and redo something. It's also a pain because we didn't leave space around the doors, so they can't be tiled around. That is a whole different kettle of fish, which we have thoughts about how to tackle, but some of that is dependent on the thickness of the adhesive and tile combined.
At any rate, all the tile's sat at the back of the house and we ordered our tile adhesive which is ready to collect today… so that's another big project to get going on and get off the list. That's reserved for days when it's too hot to be outside for long stretches, or when it's raining, although actually even though it's been hot we've been managing to keep working through the day of late. It's not been as hot as it was a couple of weeks back which has made it more manageable.
I also took it upon myself to chase our door company and… astonishingly, our doors have all arrived. From the discussion it sounds like they actually arrived a while back but the guy forgot to call us – or somehow the message got lost. Anyhow, we need to go down and collect them and then we can have actual doors. In our house. Which is quite exciting and also means we should be able to get on with installing trim around the pocket doors. That just leaves the cupboard, attic and bedroom doors to do. Heh.
The doors being ready does mean that this:
Will come into its own as while we could put three doors on the roofrack, I think that would be pushing it for the 120 mile drive back from Portland. So instead we'll push it by putting a trailer on our hitch for the first time ever.
All in all it's slow but steady progress.